Cromasaig was recorded as a dwelling as far back as the 1600's, part of the original still stands in the grounds, the new building was built circa 1922 using stone from the original. The village of Kinlochewe, located on the edge of Fisherfield Forest one of Scotland's last wild areas and at the heart of the newly formed UNESCO Wester Ross Biosphere surrounded by the rampart like peaks of the Torridon Mountains, and close to the beautiful Loch Maree, Kinlochewe is ideally situated for walkers and climbers. Or use Kinlochewe as a base for touring the North West Highlands and the Isle of Skye.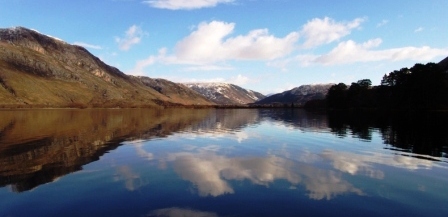 ©
For walkers and climbers there are some 20 Munros, innumerable classic climbing routes both winter and summer and over 20 Corbetts within 25 miles of Kinlochewe. For those touring the Western Highlands, the Torridon Deer Museum and visitor centre,Inverewe Gardens both National Trust for Scotland, the stunning Applecross Peninsular with it's top class eating establishment, The Applecross Inn, and the Isle of Skye are all within easy reach, while the Beinn Eighe National Nature Reserve and visitor centre, the first in Britain, established in 1951, is on our doorstep. The geology of the area is unique with some of the oldest rock structures in the world, the Moine Thrust runs through the village , a fine example of moraine is visible in Glen Torridon opposite the Coire Dubh car park (picture below).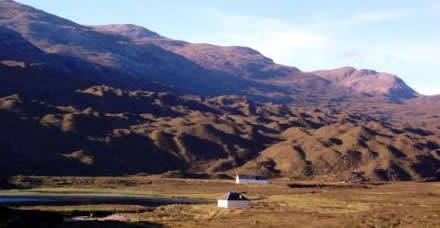 ©
For the botanist the area has an abundance of flora and fauna of all descriptions. Over two hundred varieties of alpine plants and lichens, some extremely rare,grow on the surrounding mountains,gullies and glens, Red Deer, Golden and White Tailed Eagles, Otters and Pine-Martens are regular visitors to Kinlochewe and its environs. The area around Beinn Eighe is renowned for its wide and varied collection of birdlife,some regular winter visitors such as Waxwing, an ornithologists paradise, for the entomologist, a large variety of butterflies,damsel and dragon flies and rare beetles are also prolific within the Torridon Mountains area. Fishing is available on Loch Maree for Salmon, Brown and Sea Trout, and Gairloch has sea fishing and boat trips available from the harbour.
Returning from a day out , drop in to the Kinlochewe Hotel in Kinlochewe or the Ledgowan Lodge Hotel at Achnasheen , both provide excellent cuisine in pleasant surroundings with friendly staff.
©